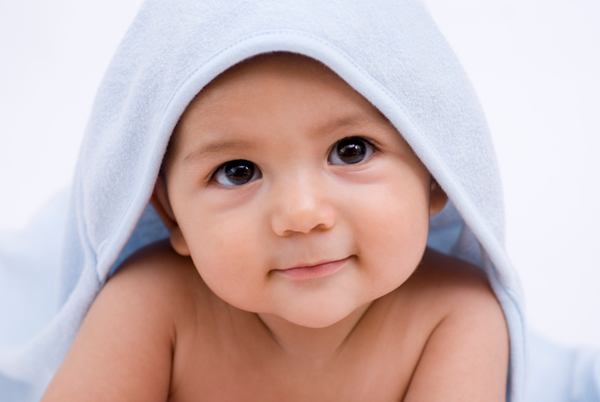 Why do we smile when we see a baby, even when we are having a bad hair day? Have you ever wondered what it is about babies that melts our hearts? Why are we instinctively drawn toward babies? Is it because a new person has come into the world? The thought that this person is unique? Is it the sight of their tiny hands and feet so perfectly formed?  Is it their vulnerability? Their big blue or brown eyes?
Nobel-Prize-winning zoologist Konrad Lorenz first suggested that the structure of the infant face, a relatively large head in proportion to the body, with large eyes and bulging cheeks, elicit these responses.
Morten Kringelbach and Alan Stein from the University of Oxford have also observed that a region of the human brain called the medial orbitofrontal cortex is highly active when we see the face of an infant. The medial orbitofrontal cortex is located in the front of the brain, just over the eyeballs. It is a key region for our emotions. What Kringelbach and Stein observed in their sensory experiments was that the brain reacts within a seventh of a second to seeking an infant face but not to an adult face. These responses are too fast to be consciously controlled and are therefore probably instinctive. It may therefore provide the necessary emotional tagging of infant faces that predisposes us to treat babies as special and ensure a protective bond.
Becoming like Children Again from Stephen Sizer on Vimeo.
Psychologists have offered four possible reasons for the magnetic power of babies.[i]
Reason #1: Innocence Is Attractive
When you meet people for the first time, it takes a little while to get to know them – to trust them. They are fallible and we are vulnerable. We don't want to get hurt, so we take it slowly with peers and adults. But babies are different.  Apart from sucking your fingeer or grabbing your glasses, a baby is not going to hurt you. There is an innocence and vulnerability. For this reason, your defences drop. You become vulnerable and find yourself drawn toward them. With this openness, you engage with the baby at their level. Innocence is attractive.
Reason #2: Small Is Cute
In our society, small is cute. Whenever you see something small, you instantly think that it's less harmful than something larger. Even wild and dangerous animals begin life as kittens or cubs or pups and news of a special birth often draws extra visitors to a zoo or game park. We are drawn to people who are vulnerable and defenceless, especially babies, even through you know that as adults they would happily rip you off or devour you. Babies have a habit of drawing us closer. Small is cute.
Reason #3: Genetics is a Bond
The reason why we find our own babies especially cute is because they are part of us. Even if your baby doesn't look exactly like you, knowing that the baby is made up of at least 50 percent of you creates a powerful bond, even when other adults, or even grandparents, may grow tired of the nappy smell or the bouts of crying. Genetics is a bond.
Reason #4: Love is Reciprocal
When someone loves us, we often feel closer to that person. Babies love whomever cares for them, and for that reason, even the most ambivalent parents end up seeing some cuteness in their baby. This is why the parental bond is so strong, long before the baby has even arrived. This is the main reason we find babies cute – because they are lovable. They make us put down our defences. They allow us to feel emotions that have become hardened in a cruel, cold world. They show us that not everyone in this world will harm us or is out to get us.  I am sure there is an element of this 'Babies-R-Us' instinct in the popularity of Christmas and the story of the birth of Jesus.  Christmas is the most popular and most widely celebrated festival in the whole world. So what is it about Jesus that draws people of every language, every tribe and every nation to celebrate his birth? I suggest one of the subliminal reasons is because that which we find attractive in babies, we continue to find attractive in Jesus the adult.
Jesus draws us to himself uniquely, like a magnet because of the way he treated people. In many cultures you are given a name that reflects your family, your nature or at least your parents aspirations for you. Please turn with me to Isaiah 9:1-7 and let us meet Jesus. Let us learn from his names, his purposes for us, for our families, for our world and the future. And perhaps we will also see why so many people are attracted to Jesus every day, and not just as a baby at Christmas.
"Nevertheless, there will be no more gloom for those who were in distress. In the past he humbled the land of Zebulun and the land of Naphtali, but in the future he will honor Galilee of the nations, by the Way of the Sea, beyond the Jordan— The people walking in darkness have seen a great light; on those living in the land of deep darkness a light has dawned." (Isaiah 9:1-2)
Despite Israel's rejection of God's message through the prophet Isaiah (8:11, 17, 19-20), God plans to give his people something more profound. The reference to the humbling of the lands of Zebulun and Naphtali refers to the invasion and annexation of the northern parts of Israel by Tiglath-pileser III in 733/732 B.C. "The way of the sea" probably refers to the Mediterranean coast, while "Galilee of the nations" can be identified as to area from the northern shore of Galilee to the Golan Heights. These lands, the first to experience foreign occupation (v.5), would also be the first to see the new and great light God would shine on all people.[ii] And that light would come through a supernatural sign:
"Therefore the Lord himself will give you a sign: The virgin will conceive and give birth to a son, and will call him Immanuel." (Isaiah 7:14).
Then in Isaiah 9:6-7 we are told more:
"For to us a child is born, to us a son is given, and the government will be on his shoulders. And he will be called Wonderful Counsellor, Mighty God, Everlasting Father, Prince of Peace. Of the increase of his government and peace there will be no end. He will reign on David's throne and over his kingdom, establishing and upholding it with justice and righteousness from that time on and forever. The zeal of the LORD Almighty will accomplish this." (Isaiah 9:6-7)
Notice how the language is couched in the past tense. This is because the future is so certain, it is written as something that has already happened. Literally, "Look forward to it. It is certain. He has already done it"[iii]  Wonder of wonders, God chose to reveal himself supremely by becoming a human being. God and man in the same person – the only person "equally at home in heaven and on the earth". Of this unique person are given not one but four beautiful names.
1.  Wonderful Counsellor
The first word – 'wonderful' is most significant. In Hebrew it comes from a root word Pele, that is "almost exclusively used of the things that only God can do… something beyond human capability."[iv] His Pre-existence was wonderful. His Conception was wonderful. His Birth was wonderful.
"When the angelic hosts called out "Glory to God in the highest, and on earth peace, good will towards men." Jesus brought heaven and earth together… Heaven and earth … united by the Babe of Bethlehem."[v] His Birth was wonderful. His Life was wonderful. Sinless yet a friend of sinners. His Teaching was wonderful. His Miracles were wonderful. His Transfiguration was wonderful. His Death was, wonderful.  He lived for others. He died for others. When they scourged him, he did not open his mouth… When they jeered at him, he said, "Father, forgive them, for they do not know what they are doing." (Luke 23:34).  His death was wonderful because he died for you, to reconcile you to God, to redeem you, to set you free. His Death was wonderful. His Resurrection was wonderful. His Ascension was wonderful. His return will be wonderful. Jesus is wonderful. Linked with the word 'Counsellor' Jesus brings God's supernatural wisdom. And this wisdom is ours for the asking.
"If any of you lacks wisdom, you should ask God, who gives generously to all without finding fault, and it will be given to you." (James 1:5).
As your counsellor Jesus brings God's wisdom to you. As your counsellor He is always available. As your counsellor He gives you undivided attention. As your counsellor He comforts you through life. As your counsellor He guides you into all truth. Yes, his name shall be called wonderful counsellor. Jesus is our personal Advocate, Counsellor, Defence and Guide.
2.  Mighty God
The second title confirms the implication of the first – that this child will be divine. For orthodox Jews, practicing Muslims and secular skeptics, the belief that Jesus is God in the flesh is anathema. Indeed this was the very reason the religious authorities crucified Jesus – for claiming to be God. But Jesus has left us with no alternative. John's Gospel begins like the creation narrative of Genesis except it is Jesus who creates.
"In the beginning was the Word, and the Word was with God, and the Word was God. He was with God in the beginning.  Through him all things were made; without him nothing was made that has been made. In him was life, and that life was the light of all mankind. The light shines in the darkness, and the darkness has not overcome it." (John 1:1-5)
Jesus himself could not be more explicit. "Before Abraham was born I am" (John 8:40). "I and the Father are one" (John 10:30). In Scripture, "Angels and magistrates are sometimes called gods in a subordinate sense; but He is "The mighty God," "God with us," even "God over all, blessed for ever." The writer to Hebrews understood the uniqueness of Jesus in this way,
"In the past God spoke to our ancestors through the prophets at many times and in various ways,  but in these last days he has spoken to us by his Son, whom he appointed heir of all things, and through whom also he made the universe. The Son is the radiance of God's glory and the exact representation of his being, sustaining all things by his powerful word. " (Hebrews 1:1-3)
He is indeed, Wonderful Counsellor, Mighty God.
3.  Everlasting Father
This title refers not to his divine title but the character he bears and the manner with which he cares for his children with father-like compassion and tenderness. We all have a father but sadly for some their father denied them at birth, others divorced them in life and all will lose their father to death. But not Jesus.
This title defines his relationship to us, his people. He is literally "father of eternity" for all eternity he will deal with his children as a loving father.[vi] Isnt that what we long for? Wonderful Counsellor, Mighty God. Everlasting Father
4. Prince of Peace
The Hebrew word for peace is 'Shalom'. It means so much more than simply the absence of war and conflict. The word signifies both prosperity and tranquillity. Jesus is literally the bringer of this peace, the Prince of Peace. It is his nature. It is his passion. In John 14 in the Upper Room, Jesus assured,
"Peace I leave with you; my peace I give you. I do not give to you as the world gives. Do not let your hearts be troubled and do not be afraid." (John 14:27)
The desire for peace is universal. That is why at Christmas, we especially pray for peace. But this kind of peace will only come to the world, one person at a time, when we each recognise Jesus as the Prince of Peace, the bringer of peace, the one who has made peace, reconciling us to God.
Having introduced us to our Saviour, Isaiah concludes,
"Of the increase of his government and peace there will be no end. He will reign on David's throne and over his kingdom, establishing and upholding it with justice and righteousness from that time on and forever. The zeal of the LORD Almighty will accomplish this." (Isaiah 9:7)
Four names for one unique, special person. Wonderful Counsellor because we are lost and blind; Mighty God because we are weak and powerless; Everlasting Father because we are orphaned by our sin; Prince of Peace because while we are deserve God's wrath he showered us with his grace. So, perhaps now we understand a little better why Jesus attracts more people to himself than anyone else, whether in history, or alive today. Perhaps this is why Christmas is the most popular religious festival in the world.  Perhaps this is why, since Jesus became a child to save us, he said we too must become like little children to be saved.
Jesus said: "Truly I tell you, unless you change and become like little children, you will never enter the kingdom of heaven." (Matthew 18:3).
This Christmas, may Jesus indeed be your Wonderful Saviour, your Advocate, your Counselor and your Prince of Peace. May he give you and those you care for, his love, joy and peace, in rich abundance, this Christmas and forever more. Amen.