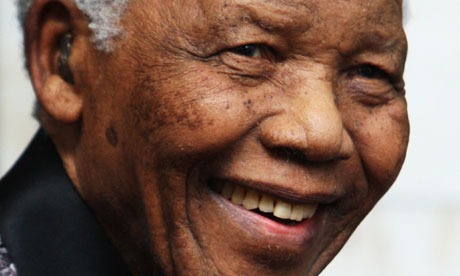 "During my lifetime I have dedicated myself to this struggle of the African people. I have fought against white domination, and I have fought against black domination. I have cherished the ideal of a democratic and free society in which all persons live together in harmony and with equal opportunities. It is an ideal which I hope to live for and to achieve. But if needs be, it is an ideal for which I am prepared to die."
As a young lawyer, Nelson Mandela was repeatedly arrested for what were seen as seditious activities and, with the ANC leadership, was prosecuted in the Treason Trial which lasted six years from 1956 to 1961. Found not guilty, in 1962 he was re-arrested, convicted of sabotage and conspiracy to overthrow the government, and sentenced to life imprisonment. Mandela served 27 long years in prison because he opposed apartheid. This weekend the world is reflecting on the accomplishments of this frail gentleman, just one month short of his 95 birthday. Nelson Mandela surely embodies the spirit of the Nobel Peace Prize he was awarded in 1993. In Leviticus 19, God says,
"Stand up in the presence of the aged, show respect for the elderly and revere your God."  (Leviticus 19:32).
Nelson's life is indeed an inspiration to billions of people and probably this week, the obituaries of every newspaper in the world will tell us something that will be inspirational or motivational. But there is no reason for triumphalism or complacency. On September 2, 1945 General Douglas MacArthur spoke to a waiting world from the Battleship Missouri anchored in Tokyo Bay, "Today the guns are silent…the skies no longer rain death…the seas bear only commerce…men everywhere walk upright in the sunlight. The entire world is quietly at peace…." That long war cost sixty million lives and came only one generation after what President Woodrow Wilson called "the war to end all wars."
South Africa may have turned its back on apartheid 20 years ago, but there are many other countries where it is still being perpetuated. We live in a world where racial prejudice, ethnic cleansing, tribal conflicts, riots, revolutions, civil disobedience and regional wars are proliferating as we discover more efficient, cost effective and deadly ways to wage war.  In our reading from James 4 today we find an explanation for why peace is so elusive.
The Cause of War: (James 4:1-5)
The Cure for Conflict (James 4:6-10)
The Channel for Peace (James 4: 11-12)
1. The Cause of War:
"What causes fights and quarrels among you? Don't they come from your desires that battle within you? 2 You desire but do not have, so you kill. You covet but you cannot get what you want, so you quarrel and fight. You do not have because you do not ask God. 3 When you ask, you do not receive, because you ask with wrong motives, that you may spend what you get on your pleasures. 4 You adulterous people, don't you know that friendship with the world means enmity against God? Therefore, anyone who chooses to be a friend of the world becomes an enemy of God. 5 Or do you think Scripture says without reason that he jealously longs for the spirit he has caused to dwell in us?" (James 4:1-5)
The primary reason for conflict is "desires that battle within you." You see the problem is not out there but in here.  Its not because we can't get along with each other.  Its because we can't get along with ourselves. So we take it out on one another. The word used for "fights" is also translated "war" and means a continuing state of hostility. "Quarrels" are outbursts of active animosity. We tend to think that peace is our natural state, and that conflict is unnatural. The Bible insists the reverse is actually true. Peace is unnatural. Conflict is natural. We have constant battles because of our "desires" or passions. Lust for power, lust for popularity, for prestige and pleasure create strife. The word "desires" comes from the Greek hedone. It is a term for pleasure but with negative connotations of self-indulgent pleasure. From it we get "hedonism". The apostle Paul describes our former motivation,
"At one time we too were foolish, disobedient, deceived and enslaved by all kinds of passions and pleasures. We lived in malice and envy, being hated and hating one another" (Titus 3:3).
The apostle Peter uses the same word in his second letter,
"Their idea of pleasure is to carouse in broad daylight. They are blots and blemishes, revelling in their pleasures while they feast with you" (2 Peter 2:13).
Tom Sine observes that 30 years ago the dominant value among university undergraduates was "finding a meaningful philosophy of life." Today that has dropped to number eight on the list. "Being well off financially" has soared to the top of the list of 70% of undergraduates.  Selfish indulgence is responsible for most discord. This is the pursuit of personal pleasure without regard for God or other people.
The word "desires" is really morally neutral. God is not a cosmic killjoy who allows us no pleasure, in fact, He "richly provides us with everything for our enjoyment" (1 Timothy 6:17). Pleasure is a good goal, but if its pursuit becomes an ultimate aim with no concern for others, it is perverted. When such desires are frustrated violence often erupts.
The words "kill and covet." Are ominous but accurate.  We are all capable of rage when sufficiently frustrated.  The fact is most murders are not cold-blooded or premeditated. Deeply regretted later, they are crimes of passion. We may be tempted to think we would never do something as extreme but sometimes we employ a subtle form of baptized hedonism in our prayers.
"You do not have because you do not ask God. When you ask, you do not receive, because you ask with wrong motives, that you may spend what you get on your pleasures." (James 4:2-3)
A distorted prayer life leads to a deceptive spiritual life.
"You adulterous people, don't you know that friendship with the world means enmity against God?" (James 4:4)
James uses the blunt and shocking word, "adultery" to describe spiritual unfaithfulness. God's relationship with His people is often portrayed as a marriage in the Bible.  The Book of Hosea poignantly presents this theme. James characterizes friendship with the world as nothing less than a form of adultery because a pursuit of pleasure lures people away from God. The world is an egocentric system that is hostile to God. It is unthinkable that we would make it the object of our affection.
The apostle John warns,
"Do not love the world or anything in the world. If anyone loves the world, the love of the Father is not in him. For everything in the world—the cravings of sinful man, the lust of his eyes and the boasting of what he has and does—comes not from the Father but from the world" (1 John 2:15).
That is why James insists:
"Or do you think Scripture says without reason that he jealously longs for the spirit he has caused to dwell in us?" (James 4:5)
God demands our whole hearted and faithful commitment. He is Lord over every area of our life. We must not surrender to another. No wonder the ultimate cause of war is godlessness.
2. The Cure for Conflict:
"Submit yourselves then, to God. Resist the devil and he will flee from you. Come near to God and he will come near to you. Wash your hands, you sinners, and purify your hearts, you double-minded. Grieve, mourn and wail. Change your laughter to mourning and your joy to gloom. Humble yourselves before the Lord, and he will lift you up." (James 4:7-10)
Notice the number of action words James uses. He extols three dimensions of an active, intentional, purposeful faith.
2.1 Submit to God (4:7)
We come to kneel together in the presence of Almighty God. This position changes our perspective on ourselves and one another. How can I stand in judgement over you when I am rightly kneeling beside you. Satan needs a foothold in our lives and we give it to him when we stand in our own strength. The way to resist him is simply to submit to God.
2.2 Draw near to God (4:8)
How do we do this? By confessing our sins and asking for his cleansing. A. W. Tozer says 'nearness is likeness' The more we draw near to God, the more we become like God. Submit to God. Draw near to God.
2.3 Humble yourself before God (4:9-10)
It is possible to submit outwardly and yet not be humbled inwardly. James uses strong language to describe how we should feel when we understand the seriousness of our sin. If we find it hard to feel like mourning or grieving over our sin, perhaps we have yet to appreciate how God views it. Our tendency is to make light of it or excuse it. Instead we need to realise that in his mercy he does not give us what we do deserve and in his grace, he gives us what we don't deserve.
"But he gives us more grace. That is why Scripture says: "God opposes the proud but shows favour to the humble". (James 4:6)
The cause of war? Greed.
The cure for conflict? Grace.
3. The Channel for Peace:
"Brothers and sisters, do not slander one another. Anyone who speaks against a brother or sister or judges them speaks against the law and judges it. When you judge the law, you are not keeping it, but sitting in judgment on it. 12 There is only one Lawgiver and Judge, the one who is able to save and destroy. But you—who are you to judge your neighbour?" (James 4: 11-12)
To slander is to speak negatively about someone else. It is about destroying someone verbally. Gossip is another word for slander. Gossip is when I speak negatively about another person to you when neither you nor I are part of the problem or the solution. Criticising a brother or sister without seeking to help them involves standing in judgement over them instead of kneeling alongside them. And despite being common, it is forbidden. It is forbidden because when we judge one another we are placing ourselves above God's word which judges us all.  Slander breaks the command to love our neighbour.
Loving our neighbour as ourselves breaks the back of slander. We cannot do both simultaneously. Why should we not judge? Two reasons: 1. We do not know all the facts (we are partial) and 2. We never know the depths of our own motives (we are biased). To speak evil about a brother or sister on the basis of partial evidence and biased motives is to incur the wrath of God because we are usurping God's role. "I am the Lord." In the list of spiritual gifts there is one noticeable absence. Have you noticed what role is missing? There is no need for judges in the church. We don't need any because God is our judge. Thankfully, he is patient and understanding, just and holy. We can therefore leave the matter to him. James is not forbidding the use of discernment (Philippians 1:9-10). It is just that we must not act like God in passing judgement on one another.
The cause of war? Greed.
The cure for conflict? Grace.
The Channel for Peace? Generosity.
What are the consequences of humbling ourselves, confessing our sin and not judging one another? Three precious consequences. Three great promises to cling to.
Satan will flee you (4:7). He is afraid of Jesus, and he is afraid of God's word because he is a created being subservient, just as we are, to the power and will of God.
God will be near you (4:8). What could be more comforting? You may not feel him but you can trust him.
God will sustain you 4:10). He will energise you. He will motivate you to live a meaningful, purposeful and significant life. If God gives grace to the humble (James 4:6), then humbling ourselves is obviously the way to experience more and more of his grace – his free unmerited mercy. We gain strength to withstand temptation. Strength to resist evil. Strength to become like Christ. Three precious gifts from God. Satan will flee you; God will be near you; God will sustain you. Looking back over decades of struggle, Nelson Mandela wrote:
"I have walked that long road to freedom. I have tried not to falter; I have made missteps along the way. But I have discovered the secret that after climbing a great hill, one only finds that there are many more hills to climb. I have taken a moment here to rest, to steal a view of the glorious vista that surrounds me, to look back on the distance I have come. But I can only rest for a moment, for with freedom come responsibilities, and I dare not linger, for my long walk is not ended."― Nelson Mandela
And neither has yours. It may feel like Friday but Sunday's coming. One day wars will indeed cease. Lets pray.
With grateful thanks to Warren Wiersbe and Alex Motyer for their commentaries on James and Dan Jackson, David Owens and Jim Drake for their sermon material over on Sermoncentral.com