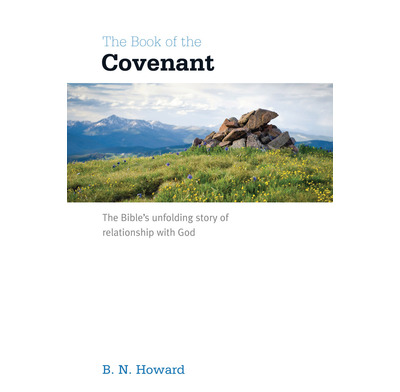 Originally published in 2013.
This evening I read Nick Howard's delightful new book, The Book of the Covenant, published by the aptly named Good Book Company. It is indeed a good read. Nick provides a simple, clear, easy to understand, overview of the entire Bible, tracing the unfolding story of God's covenant relationship with his people.
Each chapter includes copious scripture quotations, lively contemporary illustrations and a helpful application section called 'Life Lessons'. Important sentences are printed in bold for emphasis. Footnotes are kept to a minimum.
There are three main parts to the book. The first part explains the meaning of the word covenant and shows how the seven covenants 'click' together to form one united covenant revealed fully and finally in Jesus Christ. The second part unpacks the significance of each of the seven covenants, [Creation, Adam, Noah, Abraham, Moses, David and New Covenant]. The final part emphasizes how to read scripture from a covenantal perspective.
Nick uses some helpful analogies to describe the progressive revelation of God's covenant purposes through history. Here's a flavour:
"These covenants click together to form one "eternal covenant" (Hebrews 13:20)… These have the effect of dividing salvation history into separate time zones, with different instructions for each zone." (p. 18)
"…past covenants are built into those that follow, not completely demolished." (p. 19)
"… we could compare the covenants to a series of connected reservoirs providing water for a city. Each reservoir has certain distinctive features such as its location, capacity and shape, but they all serve the same underlying purpose of meeting the city's need for water. The covenants are united in a similar way by one intention: God's desire to have a people of his own." (p. 20)
"The covenants are like gates separating the different periods of biblical history. When God's people go through a covenant gate into that covenant's field, they need to live according to the code of practice for that field… The fields form one covenant valley… the valley of salvation." (p. 21)
Nick emphasizes the unity of God's people on many occasions. Here's an example:
"Because of the unity of the covenants, Bible history is our family history. The Bible is like a big family photo album. God's people take part in the same eternal covenant, no matter which salvation period we're in. So the believers we read about in Scripture are our spiritual ancestors, our family members…" (p. 22-23)
Whereas in my book Zion's Christian Soldiers, I offer a range of possible interpretations for the controversial phrase 'Israel of God' found in Galatians 6:16, Nick offers the one I just happen to agree with,
"The covenant with Abraham teaches us that if we trust in Jesus, we've joined a nation, the "Israel of God" (Galatians 6:16). It's as if we each have a spiritual passport saying Israel on the front. Everyone who belongs to this nation should matter to us deeply." (p. 83).
However, Nick goes a little further than I in describing the new covenant people of God as the 'New Israel' (p. 132). It is not a term found in the Bible but I know what he means – the term Israel has been 'reconfigured' by the new covenant.
"…the new covenant church is pictured in the book of Romans as a Jewish tree with lots of wild Gentile branches grafted in (11 v 24). So instead of "replacement theology" this is "enlargement theology"… while it is clear God no longer considers unbelieving Jews to be his people in the way they once were… he still has a special love for them. There's a sense in which they are still chosen." (p. 133)
Nick graciously acknowledges his indebtedness to O Palmer Robertson and The Christ of the Covenants (p. 161). Indeed, the incentive for writing the book grew out of a desire to make Palmer Robertson's classic more accessible.
The Book of the Covenant serves a similar purpose to God's Big Picture: Tracing the story-line of the Bible, by Vaughan Roberts and published by InterVarsity Press.
If you need any more convincing to buy the book, here are two commendations:
"Reading this clear and extremely well illustrated book, I was very struck by the fact that if I could get a good grasp of this one word 'Covenant', then it's like an axe blade that enables me to open up not just every book of the Bible, but every chapter. I pray that many will internalise this outstanding tool of Biblical understanding." Rico Tice, Evangelist and founder of Christianity Explored
"This gripping and highly readable book gives us a sweeping overview of the Bible as it charts the different "deals" that God has made with people in Scripture. It shows how the covenants with Abraham, David, Moses and others all foreshadow the new covenant to come in Jesus, and it helps us see with greater clarity the sweeping plan of God as it unfolds through the Bible story." Tim Thornborough, Editor, Good Book Company
For me the test of any book about the Bible is simple – does it motivate me to want to read the scriptures more? Nick's book does. I hope it sells well. It deserves to. Buy the book from The Good Book Company.
Although first published in May 2013 when the Good Book Company asked for a review, I thought it would be helpful to republish nine years on as it is still an excellent book.