Here's a brief survey of the key books examining the historical roots, theological basis and/or political agenda of what is called "Christian Zionism". My reviews are biased of course but then we all are, aren't we? Its just depends on whether our bias has any basis. Notice the historical development of the subject culminating in the rush of books in 2007 both for and against.
Non-Jewish Zionism: Its Roots in Western History: Regina Sharif (London: Zed Press, 1984)
An historical survey of Christian Restorationism and involvement of non-Jewish writers, politicians and church leaders in the birth of Zionism. Now sadly out of print. I referred to Sharif's sources constantly for leads during the ten years of my PhD research. A ground-breaking and prophetic book.
All in the Name of the Bible:: Edited Hassan Haddad & Donald Wagner (Brattleboro: Amana 1986)
The book is a collection of selected essays on Israel and American Christian Fundamentalism. The articles examine the reasons for the support Israel enjoys among the Christian right. I like short concise articles that help me dip into a subject.and give me clues as to where to go next. This one does.
Prophecy and Politics: Grace Halsell (Westport: Lawrence Hill 1986)
Subtitled "Militant Evangelists on the Road to Nuclear War" in Prophecy and Politics Grace Halsell describes a frightening-and ultimately depressing-reality of an actually established Jewish state and American television evangelists with millions of followers just waiting, even with joyful anticipation, for the Millennium-even if billions are sacrificed in a nuclear holocaust. Not just another book about religious "kooks" and fanatics. It is a frightening expose; a book of major historical and political significance for everyone who dreams of a peaceful nuclear-free world. This one kept me awake at night and made me glad I was not living in America. Reading the book again made me realise how long Bibi Netanyahu has been at this game. See Andrew Killgore's review here
What is Western Fundamentalist Christian Zionism? The Middle East Council of Churches (Limassol: MECC 1988). Don Wagner wrote this 25 page booklet back in 1988 while serving with the MECC. It defines key terms and identifies the personalities in the emerging movement of Jewish and Christian Zionists. This was the first thing I read on the subject.
Anxious for Armageddon: Donald Wagner (Scottdale: Herald 1995)
This book is a passionate call to partnership for Middle Eastern and Western Christians. Anxious for Armageddon is a unique resource that both offers the fascinating account of Donald E. Wagner's personal involvement with the Middle East and calls Western Christians to work with Middle East Christians in healing the pain of Jews and Palestinians. This book and footnotes were very useful in my research. Read an excellent review by L Humphrey Walz here.
The Politics of Christian Zionism 1891-1948: Paul Merkley (London: Frank Cass 1998)
The back cover tell us "For this book Prof. Merkeley has researched presidential archives, Jewish historical libraries, and official Zionist records in the US and in Israel for evidence of the dealings between official Zionists and active Christian Restorationists. Much of this record appears here for the first time in print and is linked to the much better known history of the relationship between the official Zionists and the politicians and leaders of the US and Britain. This earlier and significant friendship between the Christian supporters and the Zionist officials is recorded from the beginnings of the public attention in 1891 through to the influence it had on the politicians' actions that would lead to the creation of the State of Israel in 1948. Enlightening research for students of American politics, American foreign policy, and American religion – fields that sometimes intersect in ways not readily conceded by academic scholars." Merkely doesn't go back far enough to show the birth of Christian Zionism as a movement occured in the early 1800′s. Merkley sees Christian Zionism as orthodox and a good thing, I don't. That he receives a positive review from Daniel Pipes says something.
Zionism and the State of Israel: A Moral Enquiry: Michael Prior (London: Routledge 1999)
Does the Bible justify the military conquest of Palestine by Jews and the imposition of the Zionist political agenda as expressed in the contemporary State of Israel? This is the fundamental question Michael Prior raises in this important and scholarly, yet very readable, moral critique of Zionism. Prior explores the sharp ethical issues arising from the abuse of the Bible by Christians, as much as by Jews, to justify the occupation and settlement of Palestine, with its catastrophic consequences in the forced expulsion and subjugation of the indigenous Palestinian people. Neither the awfulness of the holocaust nor the fear of being branded anti-Semitic has intimidated him from exposing the inherent racist and apartheid nature of Zionism. In the words of David McDowell, writing in Middle East International, it is "the best demolition job on the moral legitimation of Israel that I have seen." The book has five parts covering the achievements and development of Zionism, its biblical and mythical justification as well as a Jewish critique of Zionism. In the first part Prior traces five historical phases of Zionism from its secular origins in the pages of Herzl's diary in the 1890′s to the signing of the Peace Accords between Arafat and Netanyahu. This provides the context for the second part of the book which traces the journey from a secular to a sacred Zionism and from an ideological dream to a nationalist imperative. Julius Purcell, writing in The Tablet, acknowledges how Prior shows, "Irony of Ironies, what began as a leftist anti-religious movement is now being heartily upheld by the Jewish and Christian religious right wing…" Michael Prior's book reflects his deep longing for a just resolution of the Israeli-Palestinian dispute. The product of 20 years contact with the Christians of the Holy Land, it is to be commended for showing that it is possible to be anti-Zionist without being anti-Semitic. It is an important contribution to the changing shape of Arab-Israeli, as much as Jewish-Christian dialogue and self understanding. The book deserves the wider readership it will receive when made available in paperback format. Prior was vilified by Zionists (see Wilkinson below) for this book while alive and they even speculate as to the cause of his untimely death.
Christian Attitudes towards the State of Israel: Paul Merkley (Montreal: McGill-Queens 2001)
Pop-journalist reading of the contemporary scene in Israel based on subjective interviews with Israelis and Palestinians and pro and anti Zionist Christian organisations. Merkley's sympathies for Christian organisations which have disavowed evangelism among Jewish people, such as Bridges for Peace and the International Christian Embassy in Jerusalem, is clear. The book contains just one paragraph on Messianic Jews, despite citing them as the fastest growing Christian community in Israel.  A useful book if you want to to understand how a Zionist reads the historical and contemporary Christian landscape in Israel. Surprise, surprise, he has written the only negative "review" of my own book on Christian Zionism, which is not surprisingly proudly touted on Zionist websites.
Forcing God's Hand: Grace Halsell (Washington: Crossroads 2002)
Subtitled, "Why Millions Pray for a Quick Rapture and Destruction of Planet Earth", Grace Halsell explores the danger of a new religious doctrine sweeping  America.  Adherents to this doctrine are said to constitute the fastest growing movement in Christianity today.  The cult members look like your average next-door neighbours.  They are middle to upper-class Americans.  Its leaders proclaim that God wants-even demands-that Planet Earth be destroyed in our generation. I breathed a sigh of relief when Ronald Reagan stood down. Halsell quotes some of his more eccentric statements about Armageddon.
Speaking the Truth about Zionism and Israel edited by Michael Prior (London: Melisende, 2004)
In this collection of original essays, 12 internationally respected scholars and experts examine the ethical and strategic issues of the Palestine-Israel conflict, and offer us a rare window into the realities behind Israel's military occupation. It is an essential resource for anyone who wishes to understand the causes, underlying tensions, injustices and the tragically ongoing occupation.
Christian Zionism: Roadmap to Armageddon? Stephen Sizer (Leicester: IVP 2004)
"If any book deserves the accolade of being the definitive critique of 'Christian Zionism', it is this." Anthony McRoy. Thank you Anthony! The term 'Zionism' was first coined in the late nineteenth century, and referred to the movement for the return of the Jewish people to an assured and secure homeland in Palestine. Ironically, this vision was largely nurtured and shaped by Christians long before it received widespread Jewish support. The origins of 'Christian Zionism' lie within nineteenth-century British premillennial sectarianism, but by the early twentieth century it had become a predominantly American dispensational movement, and pervasive within all main evangelical denominations. The contemporary Christian Zionism movement emerged after the 'Six Day War' in Israel in 1967, and it has had a significant influence on attitudes towards the ongoing Palestinian-Israeli conflict in the Middle East. Evangelicals are increasingly polarized over whether Christian Zionism is biblical and orthodox or unbiblical and cultic. Stephen Sizer provides a thorough examination of the historical development, variant forms, theological emphases and political implications of Christian Zionism. His excellent and informative survey is interwoven with critical assessment that repudiates both nationalistic Zionism and anti-Semitism. For more information, articles, audios and over 60 rave reviews see here.
On the Road to Armageddon: Timothy Weber (Grand Rapids: Baker 2004)
Without knowing each other's intentions or indeed conferring, we both published books on the same subject at the same time. Subtitled, "How evangelicals became Israel's best friend", Timothy Weber's book is more a critique of the relationship between Dispensationalism and Israel. Why do evangelicals care so much about Israel? How did this special relationship develop? What has it produced? Certain understandings of Bible prophecy have profoundly shaped the way evangelicals and other Americans view Israel and the political policies that have supported the Jewish state. Now in paperback, this major work on an ever timely theme is for anyone interested in American-Israeli relations, history, theology, and politics. "Timothy Weber's important and timely book illuminates the end-times beliefs that shape millions of Americans' view of current events. Well-researched and historically grounded . . . This disturbing work deserves the widest possible readership."–Paul S. Boyer. I agree. I will plunder it for the Second Edition of Christian Zionism…
Challenging Christian Zionism edited by Naim Ateek, Cedar Duaybis and Maurine Tobin (London: Melisende 2005). In April 2004, Sabeel Liberation Theology Center Jerusalem held its 5th international conference on the theme of 'Challenging Christian Zionism'. This book contains the significant papers of that important, ground – breaking conference. Christian Zionists and Christian Zionism, simply put, are terms used to identify any Christian who, due to a particular understanding and interpretation of the Bible, supports the ingathering of all Jews to Israel and their claim to the whole land of Palestine and, therefore, denies Palestinian rights. These Biblical literalists were convinced that the Bible contained important clues that could help them discern the signs of the times and the Second Coming. The papers in this book make clear in great detail the history, theology, and politics of Christian Zionism. The book is meant to inform and educate. It is meant to help readers challenge Christian Zionist neighbours with the truth and facts of what is happening in Palestine and how the Bible is being used as an instrument of oppression rather than as an instrument of liberation.
The Restoration of Israel: Gerhard Falk (Washington: Peter Lang 2006)
To read a critical review of this libellous book see here. I wrote to Dr Falk inviting him to substantiate any of his allegations about me. I subsequently received a reply from Dr Heidi Burns, senior Editor of Peter Lang Publishing. It contained the wording of an errata sheet that they intended adding to remaining supplies of the book. It listed the seven references to me and after each added this sentence from Falk: "I erroneously refer to the Rev. Stephen Sizer… This is not the case. It is an error." The concluding sentence stated "In short, the author apologizes for mentioning these matters and believes that all references to the Rev. Sizer are not supported by the evidence." In a subsequent letter, probably designed to dissuade me from initiating a libel action, Dr Falk confessed, "I must say that I am astonished that anyone would be interested in reviewing my book since it has been my experience that my writings have a tiny audience and have little impact on the events of this world." That just about sums up this sorry book.
The Politics of the Apocalypse: Dan Cohn-Sherbok (Oxford: One World 2006)
This is the best book by a Jewish author on the history and influence of Christian Zionism. Pervading culture and politics alike, Dan Cohn-Sherbok shows how Christian Zionism is the fastest growing religious movement in Christianity today, with current believers thought to exceed five million in the US alone. Proposing a literal reading of the bible, it states that a Jewish return to the Holy Land is a requirement for the Second Coming and inevitable Armageddon. Promoting common interests between Israel and the Christian World, and possessing many well-moneyed advocates, Christian Zionism has a far-reaching influence in today's world. In this illuminating book, professor and rabbi Dan Cohn-Sherbok traces the transition of Christian Zionism from Puritan times to the present, examining the ever increasing role of Armageddon in its belief structure and studying its deep-rooted sway on both the Middle East peace process and the American political system. Covering Hal Lindsey's books and his invitations to White House Seminars, Cohn-Sherbok inspects the growth of the movement and its quintessential role as a political lobbying force. Invaluable to anyone who seeks a greater understanding of the interplay between religion, politics and the end of the world, this is an insightful book into an absorbing aspect of American society.
Zion's Christian Soldiers? The Bible, Israel and the Church: Stephen Sizer (Leicester: IVP 2007)
Many Bible-believing Christians are convinced that God blesses those nations that stand with Israel and curses those that don't. This belief has had a significant influence on attitudes towards the ongoing Palestinian-Israeli conflict in the Middle East. Claims made in books like the Scofield Reference Bible and Hal Lindsey's 'The Late Great Planet Earth' have fed into the contemporary Christian Zionism movement, with radical implications for how we view our faith and the world in which we live. Stephen Sizer contends that this view is based on misinterpretation of the Bible. He provides an introduction to Christian Zionism and a clear response and positive alternative based on a careful study of relevant biblical texts. His intention is to encourage dialogue on the relationship between Israel and the Christian church and offer a more constructive view of the future and our role in it. This accessible volume includes numerous tables and diagrams, questions for Bible study and further reflection, and a glossary of terms. It concludes with a previously unpublished sermon by John Stott on 'The Place of Israel'. For more information, audio chapters to download, talk outlines and rave reviews see here.
The Israel Lobby and US Foreign Policy: John Mearsheimer and Stephen Walt (London: Penguin 2007)
This book is dynamite. It reveals how a powerful American interest group has created havoc in the Middle East, damaged Israel itself and now threatens an even more perilous future. "The Israel Lobby," by John J. Mearsheimer of the University of Chicago and Stephen M. Walt of Harvard's John F. Kennedy School of Government, was one of the most controversial articles in recent memory. Originally published in the London Review of Books in March 2006, it provoked both howls of outrage and cheers of gratitude for challenging what had been a taboo issue in America: the impact of the Israel lobby on U.S. foreign policy. Now in a work of major importance, Mearsheimer and Walt deepen and expand their argument and confront recent developments in Lebanon and Iran. They describe the remarkable level of material and diplomatic support that the United States provides to Israel and argues that this support cannot be fully explained on either strategic or moral grounds. This exceptional relationship is due largely to the political influence of a loose coalition of individuals and organizations that actively work to shape U.S. foreign policy in a pro-Israel direction. Mearsheimer and Walt provocatively contend that the lobby has a far-reaching impact on America's posture throughout the Middle East-in Iraq, Iran, Lebanon, and toward the Israeli-Palestinian conflict-and the policies it has encouraged are in neither America's national interest nor Israel's long-term interest. The lobby's influence also affects America's relationship with important allies and increases dangers that all states face from global jihadist terror. You can read the London Review of Books article that inspired the book here.
The Bible and Zionism: Nur Masalha (London: Zed 2007)
Nur Masalha's book traces Zionism's evolution from a European secular settler movement in the late 19th century to the messianic faith it has become today. Subtitled, "Invented Traditions, Archaeology and Post-Colonialism in Palestine-Israel",  Masalha analyses Zionism's multiple inventions of tradition, he shows how the Bible and Biblical archaeology have been used by many Christian and Jewish Zionists as 'title deeds' for the land of Palestine, justifying an apartheid system and legitimising war crime. With Edward Said, Masalha argues that a new politics of peace can only be developed through the advocacy of a single, democratic state, which would replace religious zealotry with secular equality.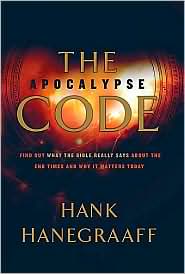 The Apocalypse Code: Hank Hanegraaff (Nashville: Thomas Nelson 2007)
More a commentary on the Book of Revelation, Hank's book nevertheless addresses the wacky end of Christian Zionism. Because of this book, not surprisingly, the "Pre-Tribs" are not a happy bunch. "Most of what you've heard, read or been told about the End Times is wrong," says popular radio host and bestselling apologist, Hank Hanegraaff. "We have come to accept a wide range of beliefs and teachings about the future, about the ultimate battle between good and evil, about the last days, and about how our world will end. And most of these beliefs and teachings are based on fundamental misinterpretations of what the scriptures really say about the end times." The Apocalypse Code helps readers understand what the Bible really says about End Times, and why what we believe matters so much in today's world. A great book to detox your Left Behind friends. I love Hank's style and we've made some great radio programmes together which you can listen to here.
A Match Made in Heaven: Zev Chafets (New York: Harper Collins 2007)
Over the course of an extraordinary year, Zev Chafets-former New York Daily News columnist and onetime director of the Israeli government press office-traveled the world to explore the improbable confluence of Jews and evangelicals. He spent quality time with Jerry Falwell, visited Jewish cadets at West Point, attended the world's biggest Christian retail show, embarked on a road trip with the rabbi with the largest gentile following since Jesus, journeyed to the Holy Land with a band of repentant Christian pilgrims, and broke bread with George W. Bush and five hundred fellow Jewish Republicans. A Match Made in Heaven is the penetrating, engaging, and often hilarious narrative of Chafets's determined quest to get to the root of a very serious question: Why do evangelicals support Israel so strongly? Equal parts history, comedy, travelogue, and political tract, it is a smart and adventurous odyssey along a rapidly changing religious and political border.
Allies for Armageddon: The Rise of Christian Zionism: Victoria Clark (New Haven: Yale 2007)
Guided by a literal reading of the prophetic sections of the Bible, Christian Zionists are convinced that the world is hurtling toward a final Battle of Armageddon. They believe that the war in the Middle East is God's will for the region. In this timely book, Victoria Clark first explores the four hundred year history of this powerful political ideology, laying to rest the idea that Christian Zionism is a passing craze or the province of a lunatic fringe. Then Clark surveys the contemporary Christian Zionist scene in Israel and in the U.S., where the influence of the religious fundamentalists has never been greater. Clark engages with Christian Zionism directly, interviewing leaders, attending events, and travelling with Christian Zionists in the Holy Land. She also investigates the Christian Zionist presence in Israel. She finds that the view through the Christian Zionist lens is dangerously simple: President Bush's War on Terror is a mythic battle between good and evil, and Syria and Iran represent the powers of darkness. Such views are far from rare: an estimated fifteen to twenty million Americans share them. Almost one in three Americans believes Israel was given to the Jews by God as a prelude to the Battle of Armageddon and Jesus' Second Coming. Clark concludes with an assessment of Christian Zionists' impact on American foreign policy in the Middle East and on America's relationships with European allies since the attacks of 9/11. Victoria acknowledges using my own book on Christian Zionism in writing hers and wrote a generous review of Zion's Christian Soldiers for Living Stones Magazine here.
For Zion's Sake: Christian Zionism and the Role of John Nelson Darby: Paul Wilkinson (Carlisle: Paternoster 2007) It was bound to happen. With J.N. Darby getting such a resounding pasting for dreaming up the novel and unbiblical idea that God has not one but two "Chosen" people as well as founding the dispensational sect, it is not surprising that a few of his contemporary fans clubbed together and have written a book or two to defend the man (the other one of note is called Future Israel by Barry Horner – see below). Paul Wilkinson famously interrupted the International Sabeel Conference on Christian Zionism in Jerusalem a few years back to give a prophecy warning of divine judgement on evangelicals present who dared to criticize Zionism unless they repented. With rave reviews from a host of dispensational writers in America, Wilkinson tries valiantly to rewrite history from a philo-Zionist perspective. When I get round to it I'll write a proper review and respond to his very personal criticisms of me. For starters I'd simply say this is not one of the better books in the Paternoster catalogue. Paternoster used to be the Brethren publisher so its perhaps not surprising that they carry this title. It still doesn't warrant a hyperlink.
Future Israel: Why Christian Anti-Judaism must be challenged: Barry Horner (Nashville: B&H)
O dear. I really don't want to have to review this unpleasant little book but those nice people at Evangelicals Now have asked me to, so I will, eventually. If Wilkinson coined the phrase "Christian Palestinianism" to identify those he doesn't agree with Horner goes one step further and calls us "anti-Judaism"  I can't find anything positive to say about this book (yet). Horner seems to focus more on personal criticism rather than objective argument. Here's what Steven M. Pospisil has to say on the Amazon website: "Just another attempt to put together a piece of work that defends Christian Zionism. God has never been finished with Israel (His Church), no where in scripture does it speak of two different plans for the Jew and Gentiles, Christ died once for all, Jew and Gentile alike and the Church consist of both. Jesus Christ also has one bride, not two! He is married to His church, not to the physical land of Israel. Jesus Christ is the Head of the Church which is the Body of believers all throughout history which are Jew and Gentile alike." It doesn't warrant a hyperlink either.
The Thirteenth Tribe: How Christians have out-Zioned the Zionists: Stephen Sizer (2010)
No, it hasn't been written yet but it is coming together so please be patient. It will be worth waiting for. The book will examine the involvement of Christian leaders in the development of Zionism as a movement from the 19th Century through to its present manifestation in Israel today. It will show how Christian Zionists play a significant role in defending and sustaining Zionism while at the same time undermining legitimate criticism of Israeli treatment of the Palestinians. It will build on the books listed above but address more sharply the political agenda of extreme Christian Zionism which is dedicated to instigating a war with Israel's enemies in the mistaken belief that Jesus will return to vindicate them.